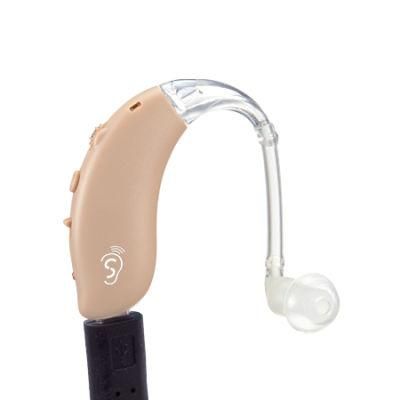 Earsmate Hearing Aid for Seniors Hearing Loss
Shenzhen Newmed Science Technology Ltd
Customized:OEM
Certification:RoHS, CE, FDA
Condition:New
Output Type:High Power
Signal Processing Type:Simulated Hearing Aid
Application:Adult, Elderly
Model NO.:G-25D
Conduction Mode:Air Guide Hearing Aid
Principle:Simulated Hearing Aid
Type:BTE
Product:Wireless Bte Aid
Sound Output:Max 135dB
Peak Gain:50 dB
Battery Life:40 Hours Last Working
Brand:Earsmate
Warranty:1 Year
Battery:Lithium Ion Rechargeable
Fitting:Adults,Senior and Elderly
Program Mode:4 Mode
Tube:Wireless Tube
Transport Package:100PCS Each Carton
Specification:14*12.5*4cm
Trademark:Earsmate
Origin:China
HS Code:90214000
Production Capacity:60000PCS Per Month
Product Name
Open fit wireless BTE rechargeable Battery Hearing Aids Hearing loss
Fitting Range
Fitting for mild to severe hearing loss
Application
wearing behind on right Ear and left Ear
Technical Data
IEC 60118-7/ANSI S3.22-2003
Model Number
G-25D
Peak OSPL 90 ( dB SPL)
130dB±5dB
HAF OSPL 90 ( dB SPL)
120dB±5dB
Peak Sound Gain(dB)
50dB
HAF/FOG Gain (dB)
40dB
Total harmonic distortion/
THD%
≤3.0% at 800Hz
≤3.0% at 1600Hz
Frequency range(Hz)
300Hz-4500Hz
EQ Input Noise(dB)
≤28dB
Battery Type
Rechargeable Li battery
Power consumption
DC 3.7V, Current: ≤2mA
Power switcher
Yes, On/Off button
Battery working
Working day time 40+ Hours by 4-6hrs charging
Certificates Approved
CE,FCC & ROHS, and the FDA
Materials
ABS for hearing aid body
Silica gel or silicone for Earplug
Paper Color box/OEM
Packing and size
Paper box size:14x13x4cm or 5.5x5.1x1.6 inch
Hearing Aid size: 0.4x0.5x1.8 inch
Hearing aid net weight: 6.5g
100 units in a standard carton
Gross weight is 18.0KG per carton
Package including
1 x Earsmate Rechargeable Hearing aid
3 x Large,Mid,Small size Ear Plug
1 x Cleaning Brush tool
1 x Power charger
1 x DC adapter(EU,US,UK,JP,AU type)
1 x USB cable
1 x Easy read User manual
1 x Color box
Warranty
1 Year warranty and Life time service
What's the Kit Including?
1 BTE Hearing Aid
1 Color Case
3 Ear Plugs (small, medium, large)
1 Cleaning Brush
1 Power Adapter
1 USB Cable ( Can use Power Bank-5V,1A output )
1 User Manual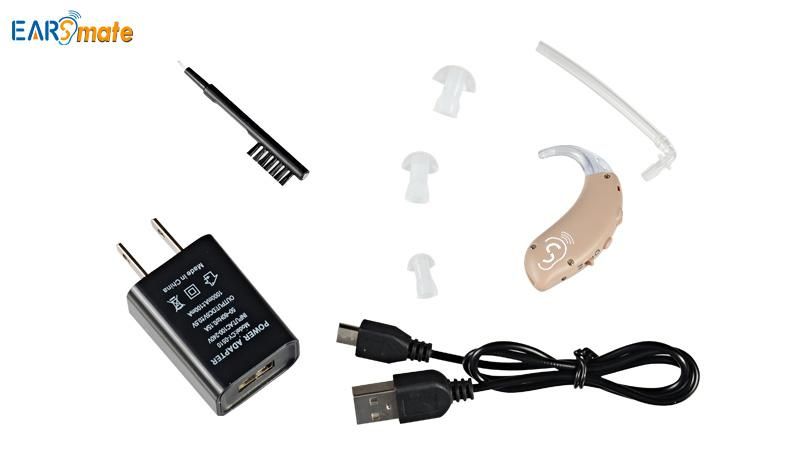 Earsmate TIPS:
1.Causes of Hearing Loss
One of the most common "myths" about hearing loss is that only "old people" suffer from it! In fact, the reverse is true! The majority (65%) of people with hearing loss are younger than 65 and six million people in the U.S. between 18 and 44 suffer from hearing loss (Better Hearing Institute website).

The truth is that there are several causes of hearing loss with "exposure to noise" ranking high among the reasons. The primary causes of hearing loss are:
· Exposure to noise
Family history of hearing loss
· Medicine
Aging process
· Disease
Head trauma
2.Types of Hearing Loss
Not all hearing loss can be corrected through the use of hearing aids or alternative listening devices. The type of hearing loss determines the specific treatment required.

3.There are four types of hearing loss:
· Conductive: This could be caused by something as simple as earwax buildup!
· Sensorineural: This is caused when tiny hairs in the cochlea are missing or damaged.
· Mixed: This is a combination of conductive and sensorineural hearing loss.
· Central: Strokes and central nerve diseases are often the cause of this type of hearing loss.

Advanced Digital Sound Amplifier Hearing Aid Device For Great Hearing and Nice Life
Terms and Conditions:
Payment terms: Paypal,Western Union,MoneyGram,T/T available
Lead time: 3-5 days
Shipping way: DHL/FedEx/TNT/UPS,or By air,by Sea-shipping
Warranty:1 years and lifetime free service
website:earsmate.en.made-in-china.com,earsmate.en.made-in-china.com,earsmate.en.made-in-china.com
Hearing Aids supplier Trade Terms and certificates: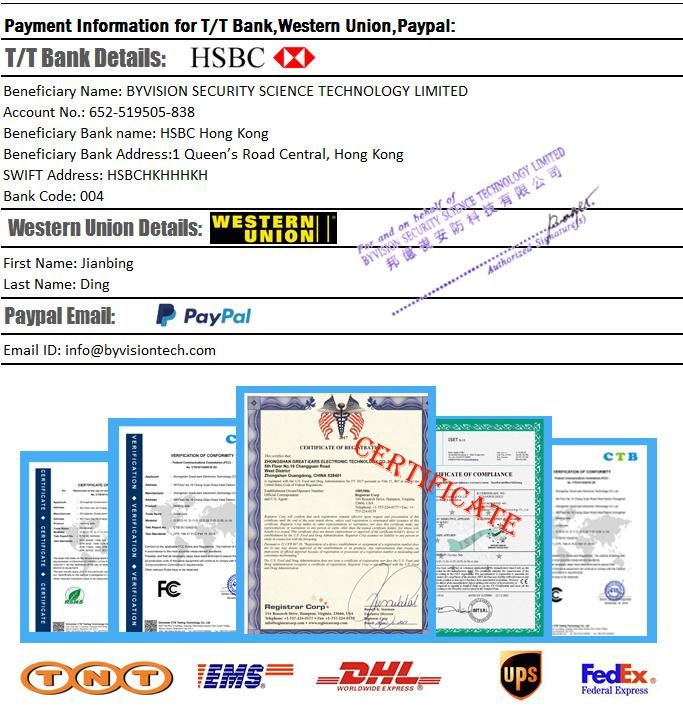 great-ears.en.made-in-china.com